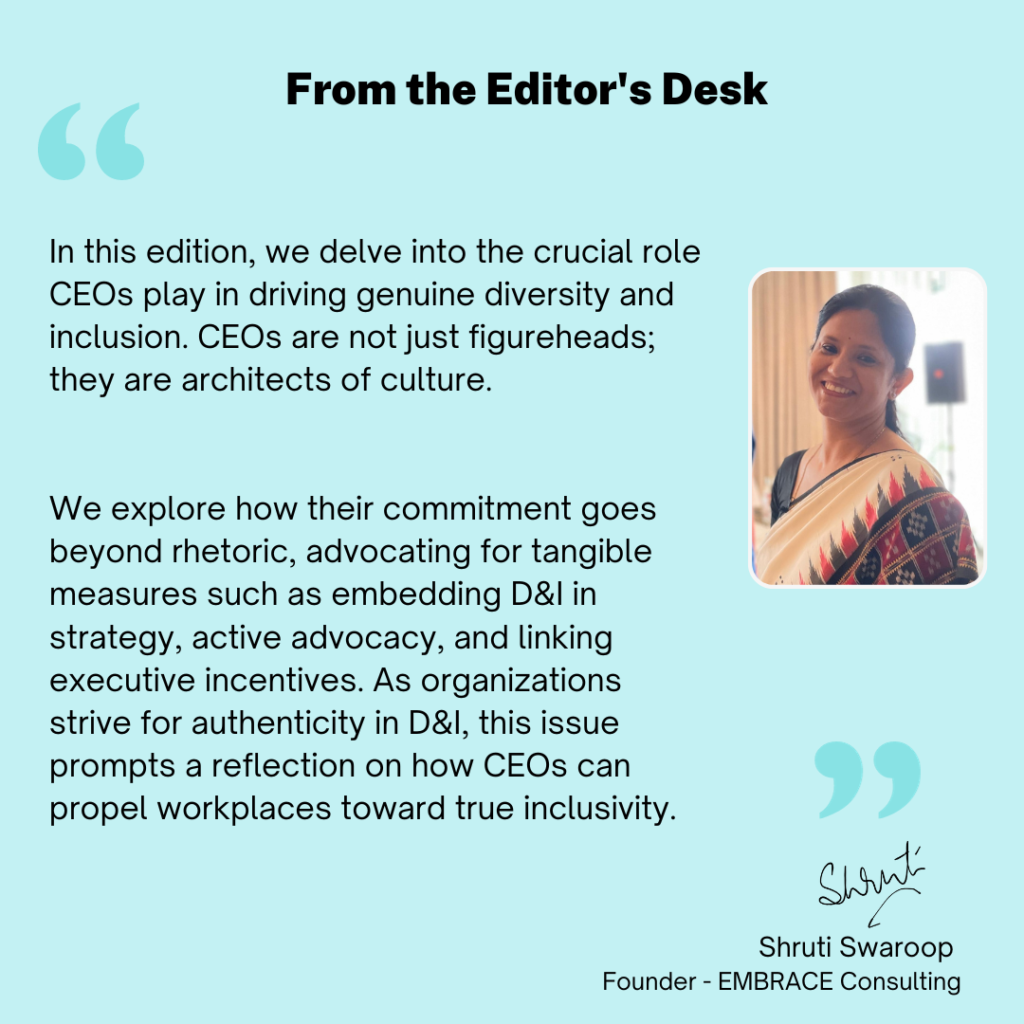 Diversity and inclusion initiatives are critical for modern organizations. They aim to engage with differences in culture, ability, social background, lifestyle, gender, and race within the workplace. To make these initiatives effective, it is crucial for leadership to take ownership, understand their accountability, and drive authentic change. This means moving beyond merely fulfilling compliance requirements and embracing diversity as a core value that enriches the organization. In this article, we explore the need for authentic diversity and inclusion, offer a three-part framework for accountability, and provide steps that CEOs can take to drive real change in their organizations.
The Three-Part Framework for Accountability
To drive better accountability in diversity and inclusion efforts, it is to propose a three-part framework:
1. Educate: Before telling people what to do, leaders must explain why diversity and inclusion initiatives are essential. Highlight how these initiatives are personally relevant to the organization and leaders. Data should be used to demonstrate the impact of a lack of diversity on hiring, talent attraction, and employee retention. For instance, by showcasing that diverse teams drive innovation and better decision-making, leaders can illustrate the relevance of these initiatives to the company's goals.
2. Listen: Instead of imposing solutions, leaders should involve their teams in the decision-making process. By soliciting input and feedback, leaders can design better accountability strategies. This approach can also identify potential challenges and resistance in implementing diversity and inclusion initiatives. For instance, in the implementation of diversity initiatives, leaders can seek input on the most effective strategies, fostering a sense of ownership among employees.
3. Recognize: Celebrate successes and provide positive reinforcement for those who adhere to the new processes. Nudge those who may need extra support and guidance. Recognize that learning and change often involve mistakes and failures but contribute positively in the long run. For example, recognizing a team that successfully increased diversity in their hiring practices reinforces the positive impact of adhering to the new guidelines.
Steps for CEOs to Drive Authentic Diversity and Inclusion
1. Preparation: Just as CEOs would prepare for any other organizational responsibility; it is essential to prepare for diversity and inclusion initiatives. Senior leadership should undergo knowledge and skills-based training to increase their competence and understanding of the agenda.
2. Make the Agenda Clear: CEOs should issue a clear message within the organization about the significance of diversity and inclusion initiatives. It is about leveling the playing field and fostering fairness, not taking power away from any group.
3. Increase Diversity: Leadership must recognize that diversity in its makeup is critical to authenticity in diversity and inclusion. By embracing diversity at the leadership level, organizations demonstrate their commitment to the cause.
4. Increase Leadership Visibility: CEOs should actively engage in diversity and inclusion initiatives and make them a regular part of leadership meetings. By setting an example, leaders inspire the entire organization to follow suit.
5. Invest in Company-Wide Training: Providing diversity and inclusion training for all employees is essential. However, training alone is insufficient; it should be integrated into a broader initiative to reshape organizational culture.
6. Performance Management: CEOs should make diversity and inclusion a component of performance management reviews to link leadership accountability with inclusive behaviors and outcomes.
7. Learn From Employees: Diversity networks or employee resource groups can be valuable sources of knowledge. CEOs should engage with employees to understand how diversity impacts their experiences and careers.
8. Manage the Momentum: To keep diversity and inclusion on the organizational agenda, CEOs can introduce regular seminars or newsletters. Sharing best practices and collaborating with other organizations can also help advance the diversity and inclusion agenda.
The path to authentic diversity and inclusion in organizations requires proactive leadership, genuine commitment, and accountability. CEOs have a vital role to play in driving real change by embracing diversity, involving all employees, and constantly monitoring and adapting their initiatives. Authentic diversity and inclusion are not just compliance requirements but essential values that enrich the organizational culture and drive long-term success.
ETPWLA 2023: Geetika Mehta wins DEI Ally of the Year Award at ETPrime Women Leadership Awards 2023
By ET Special | 1st September 2023
Geetika Mehta, Managing Director of Hershey India, claimed the coveted DEI Ally of the Year award at the fourth edition of the ETPrime Women Leadership Awards (ETPWLA) 2023. The award, presented by Rekha Menon, Ex-Chairperson and Senior Managing Director of Accenture India, acknowledged Mehta's unwavering commitment to diversity, equity, and inclusion (DEI). The Grand Felicitation Ceremony in Mumbai on August 4 marked the conclusion of the six-month-long ETPWLA 2023 program, with 19 winners recognized across 15 award categories. Mehta, while receiving the accolade, stressed the pivotal role of allyship, transcending gender boundaries. She emphasized the need for empathy, understanding, and courage, stating, "Merely listening to an inspiring speech without taking any action or just appreciating it is insufficient. You must become that agent of change. Hence, I firmly believe that both men and women can be allies". Rekha Menon, a noted DEI advocate, highlighted the significance of having a 'measure of diversity' publicly available, akin to financial metrics, underscoring transparency in organizational commitment to inclusivity. The award ceremony encapsulated the essence of allyship as a catalyst for change, echoing the program's dedication to recognizing leaders shaping a more inclusive future.
Strategies for Effective DEI Implementation: Operationalizing Accountability
By Rachel Zuckerman | October 4th, 2023
In the pursuit of Diversity, Equity, and Inclusion (DEI) goals, having a set of objectives is not enough; successful progress requires accountability. Dr. Evelyn Carter stresses the importance of holding stakeholders responsible for DEI progress, emphasizing that accountability involves clearly defining leaders' roles and responsibilities. To achieve this, a three-part framework by Dr. Carter suggests practical strategies, and here we outline actionable steps to operationalize these strategies. Step 1 involves embedding equity considerations into strategic priorities to educate leaders. Step 2 emphasizes accounting for all types of loss by actively listening to feedback. Step 3 recommends recognizing achievements and setting up clear incentives and consequences to establish accountability. In summary, operationalizing DEI accountability involves educating leaders, actively listening to concerns, and establishing clear incentives and consequences. By implementing these strategies, organizations can ensure that DEI goals are not mere aspirations but integral priorities actively advanced by all stakeholders.